Learn from a former Principal Product Manager from Alexa AI who has launched Generative AI features at scale
"GIVE ME 8 WEEKS & YOU'LL WALK AWAY
WITH

ALL THE KNOWLEDGE AND SKILLS YOU NEED TO LEAD AI PROJECTS

 THAT ACTUALLY  DELIVER VALUE!"
Great AI Product Leaders Aren't Born That Way... They Are BUILT!
...by investing in their own skills, knowledge and hands-on experience
There are 6 Core Competencies Every Software Product Leader Needs to Master
to Lead Successful AI Projects! Read on
to learn how to ditch the overwhelm and
Build a Vision, Get Buy-In, and Forge a Path to Results!
IT'S TIME TO FUTURE-PROOF YOUR CAREER!
From: the Desk of Polly Allen, CEO of AI Career Boost
(Previously a Principal PM-Technical at Alexa AI)
Let's Get Real: 80 to 85% of AI Projects End in Failure. If you haven't led one before, it's daunting to avoid the pitfalls you're not even aware of yet!

If you're like most product and business leaders I work
with, you got into this business because you want to deliver impact...

...not spend all your time trying to become a data scientist, or struggling to get your ideas funded!

The reality is:

Whether you're new to AI, you've been fighting your way through technical courses to learn more, or you're an experienced data scientist or science leader looking to make more impact, you may already have realized...
DATA SCIENCE COURSES DO NOT TEACH YOU HOW TO DELIVER BUSINESS VALUE!
Well... you're right!
Many business leaders are feeling the pressure to go back to grad school for a data science degree. Many science leaders worry they might need an MBA to get their ideas funded and brought to life. But when AI innovation is moving so quickly, do you really want to take a step BACKWARDS?

I've found the skills and knowledge an AI PM needs aren't taught in academic classrooms. You need to learn from experience - or from someone who has traveled the path and launched successful AI products!
Introducing
THE COMPLETE AI PRODUCT LEADER BLULEPRINT
The Only All-in-One
Group Coaching & Consulting Program
Taught by a Generative AI Product Industry Leader.
Created

for Software Product Leaders Ready to Become AI Product Leaders!
Plot a Personalized Course Throught Detailed On-Demand Video Training That Covers the Fundamentals of AI and Large Language Models.  Get Up to Speed as Quickly as Possible!
Instructional Workshops that  Guide You Through the Process of Building the 6 Core Competencies Needed for a Successful AI Leadership!
Plug-&-Play Templates & Fill-in-the-Blank Sections for Easy Vision and Requirements Documents That Get Buy-In and Get Funded
Learn What to Expect at Every Step of an AI Product Lifecycle from an Experienced Industry Expert -   from VISION and PROTOTYPING, to DESIGN,  EVALUATION and GETTING TO PRODUCTION LAUNCH (and beyond!)
CAPSTONE PROJECT: Develop a Generative AI prototype to sell your vision, get hands-on practice with evaluation, and use as a specification for your technical team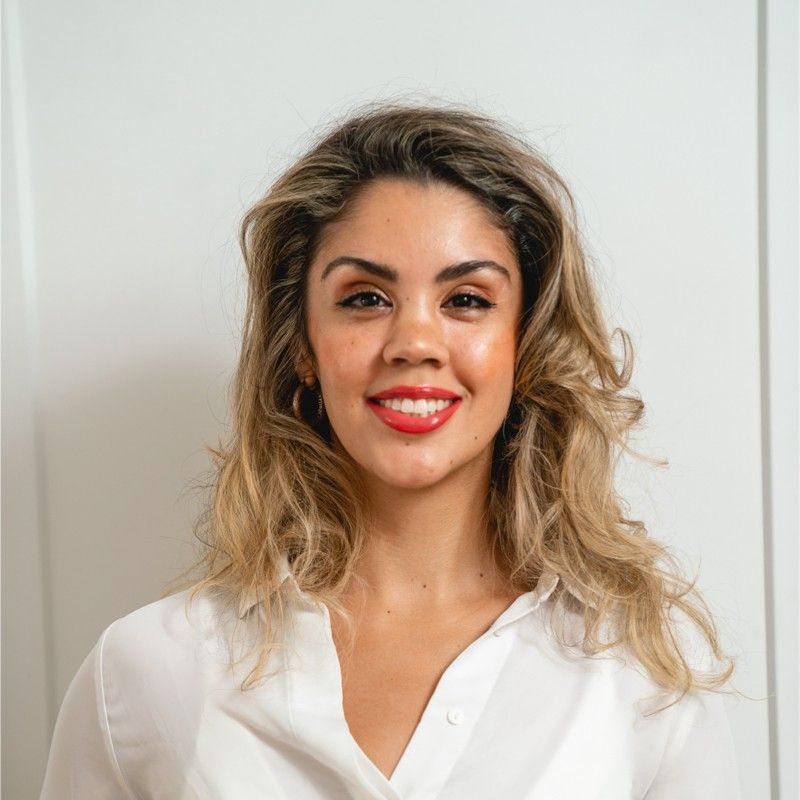 ANNE T GRIFFIN
Senior Product Manager, Blackbird.ai
Land an AI Product Role
 "Wanted to let you know, today I signed an offer with a company called Blackbird AI. I'm so excited about their product, the team, and their mission. While I've taken some previous courses, I am really grateful to be in this course... It really helped me with ideation through parts of the interview process having a good grasp around conversational AI, LLMs, and GenAI.
While I've gotten to touch some AI things here and there professionally, this will be my first time working on a product that is rooted in AI. I'm so excited, and it feels like a long time coming and these courses helped me get over the finish line."
BUILD AN AI ROAPMAP
 Jimena started the Blueprint program because she wanted to launch renewed search capabilities and a conversational bot for her employer's website. By the end, she left with a roadmap full of vetted generative AI features and renewed confidence when talking to her technical stakeholders.  Her CEO has approved hiring and they are building these features this fall!
---
"Before this course, I was very keen to learn more about AI... I really didn't know where to start. This course definitely helped us to set the direction of where to start, how to do it. It provided us the language, the vocabulary... I will recommend it because I felt it really equips product managers and business leaders with the fundamentals that are necessary to start and get engaged into this type of conversations and innovations around AI."
JIMENA BARRERA
Senior Product Manager, Equilo
Confidence, Clarity, Leadership
"[Even with a technical background] this course was so valuable. It gave me the framework to think about how to build valuable products and get buy-in."
YASWANTH REDDY
Director of Data Science, Fidelity Investments
SEE what's waiting for you inside once you join…
Each week there are detailed video courses, knowledge-packed workshops, no-code labs and assignments, and a live Q&A session help you make progress on a no-code generative AI prototype. Each week we'll cover one of the
6 essential core competencies of a successful AI Product Leader!
 MODULE 1:
WELCOME, ORIENATION & FUNDAMENTALS:
Welcome & Orientation: 
How to think about the course, take advantage of the learning and accountability of the group, and more!
AI and Large Language Model Fundamentals: 
Is learning about AI B.C (Before ChatGPT) important? Absolutely! We'll cover some AI background and a deep dive into Large Language Models for business leaders. 
Let's Make a Plan:
Based on your goals, we'll work 1:1 to create a personalized learning plan for the next 8 weeks
MODULE 2:
STRATEGY AND VISION:
CORE COMPETENCIES: USER-CENTRIC STRATEGIC VISION and UNDERSTANDING AI CAPABILITIES
Workshop:  Developing Strategy, Vision & Getting Buy-In
Workshop: 

Mapping Problems to AI Solutions

LAB: Tech setup: command line, API keys and more (no programming required!)
Module 3:
AI & Risk
CORE COMPETENCY: RISK MANAGEMENT
Responsible AI starts before requirements. Understand legal, ethical and technical risks and how to manage them like a pro!
Workshop: Responsible AI and 

Stakeholder Impact Assessment

Workshop: Managing Risks for Generative AI Projects
LAB: No-Code Tools Overview
Module 4:
Data Week
CORE COMPETENCY: DATA FLUENCY
Understand how data professionals think about data at every step of the lifecycle.
Workshop: Evaluating data quality
Workshop: 

What kind of data do I need? And how much?
Module 5:
Model Development Week
CORE COMPETENCY: UNDERSTANDING ML SYSTEMS & LIFECYCLE
Supporting your data science team through model development and iteration requires some common language and  understanding of the data science lifecycle
Workshop: Model development process and supporting engineering systems
Workshop: Building and Developing With Large Language Models
Module 6:
Evaluation Week
CORE COMPETENCY: MAPPING METRICS BETWEEN STAKEHOLDER GROUPS
Setting up continuous quality evaluation can be the most effective ways to align stakeholders on progress and launch criteria. Help your teams speak the same language!
Workshop: ML Evaluation Using Data Science Metrics
Workshop: Evaluating Conversational AI with Automated Metrics and Human Review
Module 7:
ML Operations (MLOps)
CORE COMPETENCY: UNDERSTANDING ML SYSTEMS AND LIFECYCLE II
Getting to launch - and then improving once you get there - are important milestones for successful AI projects. 
Workshop: Get to Launch: Aligning Across Stakeholders with Dashboards
Workshop: Monitoring, Evaluation & Model Re-Training
Module 8:
CAPSTONE DEMO
With an ever-growing library of no-code tool walkthroughs and prototype examples, you'll be amazed at what you can build with Generative AI!
Walkthoughs: 
AI Chatbots with ChatGPT, Zapier, and Voiceflow.
Walkthoughs:

 more advanced prototypes with bubble.io

Live Demo Day: Get feedback and celebrate your wins with your instructor and fellow participants!
Video  Workshops: 
On-demand 1-3 hours of content each week
Live Q&A Sessions: 1 hour each week
Overall time commitment: 4 - 6 hours per week, depending on the complexity of your capstone project
THE MONEY-BACK GUARANTEE
Yes, I'm this serious about lowering the barriers to careers in AI Leadership. I think this program is the best value you'll find on the market for getting the AI essentials business leaders need quickly and effectively - and I'm devoted to making it better with each passing week!
If you're thinking, "This sounds too good to be true!" or, "Is this for me? Is this really what I need?"...
The solution is simple. Try it.
30 DAY GUARANTEE:
Test-Drive The Program for 30 Days
When you enroll, you'll have 30 days to go through EVERYTHING inside the program, and if for whatever reason you don't feel like this was the best investment you've made in your AI leadership journey, just email [email protected] we'll gladly refund your entire investment.
OK, LET'S RECAP!
When you join The Complete AI Product Leader Blueprint, you'll be getting access to everything you need to blaze your own path leading successful AI projects, including Generative AI. The program includes...
A Personalized Learning Plan Based on Your Goals: We'll develop this one on one to be sure you get the most possible out of the course!
6+ Hours of On-Demand Background Video and Hands-on No-Code Tools Training for background in fundamentals of AI, Large Language Models, data fluency 101, and more.
12 On-Demand Video Lectures - from an experienced industry expert. Learn from experience to bootstrap your project and avoid expensive pitfalls
A Live 60 Minute Q&A Session Each Week to integrate your learnings, debug issues as we develop no-code prototypes, and answer questions
Templates, Exercises & Examples for each AI Product Core Competency 
Access to a Growing Library of Video Walkthroughs of Ways to Build No-Code Prototypes Using Generative AI Tools